---------- Forwarded message ----------
From:
<nofearcoalition@aol.com>
Date: Mon, Apr 2, 2012 at 12:22 PM
Subject: OccupyEPA Makes History! Largest Whistleblower Demonstration against EPA Repression
To:
nofearcoalition@aol.com
Dear Friends, thank you for supporting OccupyEPA!  Nearly 300 people participated in the call to action at the EPA on Friday, March 30th. We are making a difference! And, we will continue to press our demands: 
Stop the War on Whistleblowers
Environmental Justice for Low-Income Communities being polluted and justice for South African Vanadium Miners
Stop the abuse of civil rights of victims
Protect the people, the planet, not corporate profits- 
Stop the Canadian Pipeline and fracking!
Justice for Trayvon Martin
We Are the 99%!  No FEAR!
Government Executive
Occupy protesters, alpacas in tow, call for EPA administrator's resignation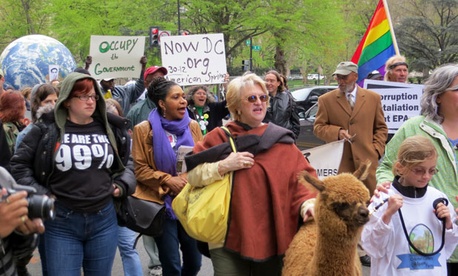 Andrew Lapin/Govexec.com
More than 100 demonstrators and two alpacas marched to the Environmental Protection Agency headquarters Friday, the first day of a planned monthlong National Occupation of D.C. movement dubbed NOWDC.
A multitude of speakers outside the EPA spoke for an hour on social causes ranging from District of Columbia statehood to justice for Trayvon Martin, the unarmed Florida teenager shot dead by a neighborhood watch volunteer on Feb. 26.
A consistent thread throughout the assembly was the demand for EPA Administrator Lisa Jackson to resign -- a call accompanied by charges that her agency did not treat employees properly or adequately protect the environment.
"Hey hey, ho ho, Lisa Jackson has got to go," the protestors chanted.
The demonstrators walked more than one mile from Washington's Franklin Square Park to EPA headquarters, led by NOWDC organizer Margaret Flowers and former EPA whistleblower Marsha Coleman-Adebayo, who helped secure passage of the 2002 Notification and Federal Employee Anti-Discrimination and Retaliation Act. Although the law helped secure more protections for federal whistleblowers, Coleman-Adebayo said during the rally that EPA continues to "discriminate against whistleblowers."
Referring to EPA as the "Environmental Betrayal Agency," Coleman-Adebayo said the agency "has betrayed the faith and the hope of the American people," adding that it had committed "crimes against humanity."
Increased whistleblower protection was a clear demand at the protest. Three other whistleblowers -- former EPA employee Susan Morris (who brought the alpacas), Lawrence Lucas of the Agriculture Department and Joe Carson of the Energy Department -- lashed out at Jackson, EPA and, more broadly, the U.S. government over failure to properly protect federal employees such as themselves.
The OccupyEPA speakers and protestors also called for increased nuclear regulation; an end to the practices of hydraulic fracturing, or fracking, for oil and gas and manufacturing genetically modified organisms; and an end to housing regulations.
As for the alpacas, Morris 
told the DCist website
 that they just thematically fit the Occupy protests: "They're ecologically friendly, sweet and gentle," she said.
NOWDC has other federal agencies in its crosshairs as well. The movement planned to protest at the Education Department throughout this weekend. On April 24 the group expects to demonstrate at the Justice Department and U.S. Army base Fort Meade, Md., in support of Bradley Manning, the Army private charged with leaking hundreds of thousands of classified U.S. files to the website WikiLeaks.
           Hundreds March down 14th Street to Occupy EPA Headquarters             March 31,2012
Hundreds of Washingtonians, Federal workers, vacationers, visitors to the Cherry Blossoms, and Occupy groups lined 14th Street NW, Washington, DC as over 300 OccupyEPA and NOW DC marchers chanted, "Hey, hey, ho, ho, Lisa Jackson has to go."  The peaceful, but lively, protesters walked a mile from Franklin Square Park to the EPA Headquarters at 12th Street and Pennsylvania Avenue to make their demands known.  Demands included EPA stopping their war against whistleblowers, Environmental Justice for Low-Income Communities being polluted, protecting the civil rights of Federal employees, protecting the people, the planet, not corporate profits, and justice for Trayvon Martin.  
A mother alpaca named Azriel, and her female 6-month old cria, led the way as hundreds of onlookers snapped pictures of this unusual sight going down 14th Street, Washington, DC.  From the sidelines, they yelled to get the attention of the alpaca - many calling them llama, one of their camelid family members that is much larger that have pointed ears and often used as pack animals.  The smaller alpaca, which are slightly harder to halter train and more skittish, were not happy with the rambuntious  crowd with a huge world globe, drummers, chanters, singers and Snowflake the Polar Bear, insisted on moving to the front of the march.  "Azriel and her daughter are Huacaya alpacas that are more abundant than Suri alpacas with long silky braids.  They are native to the Andean Mountains and were first imported in 1984, but they have been domesticated for thousands of years.  There are approximately 170,000 alpacas now registered in North America," said Vondell Carter, owner of Colonel Carter's Alpaca Farm in Virginia.  His wife, Susan Morris, a cosponsor of the march with Dr. Marsha Coleman-Adebayo said, "The pleasure of being with these gentle animals and their cria show you what is important in life and how critical it is to take care of our planet, our air, water, and land, which we all need to survive." 
Dr. Marsha Coleman-Adebayo, author of "No Fear, A Whistleblowers Triumph over Corruption and Retaliation at the EPA," started the rally in front of the EPA Ariel Rios Building by calling for a moment of silence for Trayvon Martin and announcing the intention to continue protests against EPA.  The first speaker, Dr. Helen Caldicott, a reknowned Australian physician, author and anti-nuclear advocate, gave a rousing speech, often pointing up to Administrator of EPA Lisa Jackson's  office, cautioning Americans on the impact of nuclear weapons proliferation and damage to the planet.  She was followed by a host of speakers who spoke about racial profiling, the lack of environmental justice for low-income communities, retaliation of whistleblowers at EPA and the Department of Energy, justice for the Black farmers, veteran's for peace, and harm being done to the environment because of corporate greed. 
A tape was released at the rally of the EPA Civil Rights Director, Rafael DeLeon, calling two former female EPA employees "Pink Elephants," and one the "EPA Rosa Parks."  After hearing the tape, the demonstrators called for Mr. DeLeon's firing, along with Lisa Jackson's.  "Lisa Jackson refused to consider the numerous complaints filed by women against Mr. DeLeon, his removal as the Director of Human Resources for violations, and his sexist statements on the national conference call after an investigation into the matter," said Dr. Coleman-Adebayo.  "The National Whistleblower Center called for Mr. DeLeon's removal from the position, along with other organizations, to no avail.  What does it take in this country for government officials to listen to the people?"  
Susan Morris, also an EPA whistleblower, repeated the promises made by President Obama and Joe Biden on their campaign trail in 2008, telling the crowd, "They said during their campaign that they were going to 'Shine the Light' on our government, along with defending whistleblowers from being retaliated against.  The President said that he would protect whistleblowers because they are "often the best source of information about waste, fraud and abuse in the government and willing to speak out." He also said that "such acts of courage and patriotism, which can sometimes save lives and often save taxpayer dollars, should be encouraged rather than stifled."  Morris then asked the protestors, "I'm a whistleblower with a finding from the Office of Special Counsel because EPA retaliated against me for exposing their violations of civil rights laws.  Who is defending me?  Who is defending Dr. Coleman-Adebayo another EPA Whistleblower?" Later in the program, Morris introduced Joe Carson, a Department of Energy whistleblower, who related his own trials and tributions for speaking out.  Morris continued, "They need to shine the light on us and EPA, a microcosm of what is wrong with our goverment, where law breakers are just transferred so they can continue receiving their $170,000 year salaries after taking adverse actions against employees for exposing them.  These management officials need to be held accountable for allowing employees to sleep on the job, play computer games, shop during government hours, not show up at work, while destroying people's lives.  At the very least, they should be penalized for ignoring the President's promises and policies by retaliating against whistleblowers and accusing them falsely."

Clouds over the rally and a slight drizzle of rain did not stop the protestors as the afternoon wore on and they made their concerns and demands known.  An employee on the inside of the building, who wished to remain anonymous, said that they supported the demonstrators but were afraid to come to the windows for fear of retaliation.  The crowd slowly dispersed after two hours with promises to continue their demonstrations throughout Washington, DC the entire month of April with NowDC and the American Spring.  Schedules of planned activities, including Occupying the Department of Justice and Congress, can be found at www.NowDC.org 
---